Catmandu Pro – Multi-purpose WordPress Business Theme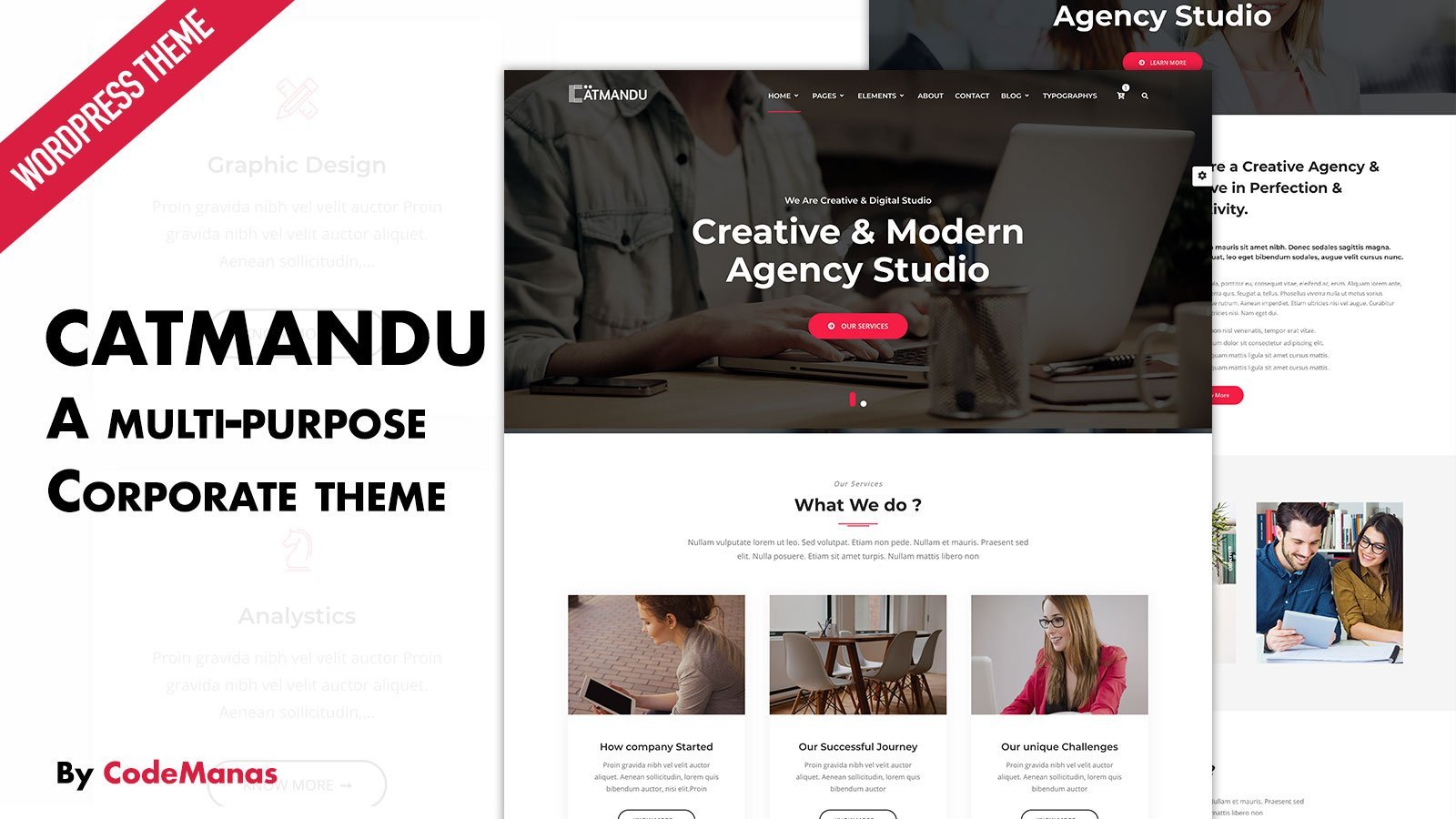 Catmandu Pro is a clean, responsive, modern and feature rich multi-purpose Business WordPress theme. Catmandu Pro is suitable for business, portfolio, digital agencies and general corporate websites; designed with great attention to detail, flexibility and performance thus looks stunning on all types of screens and devices.
Catmandu Pro comes with creative and well-organized sections and very extensible and secure code. It is designed and developed paying careful attention to detail, to bring you a clean, modern and crisp design with the kinds of useful web elements that help make your website stand out from the crowd.
Key Features
Why Catmandu Pro stands out? Following are the key features of Catmandu Pro.
15+ homepage
sections
Catmandu Pro provides most of the required sections for homepage which is crucial for a business website like pricing, CTA, featured, slider, services, portfolio, testimonial, counter, newsletter and much more. Moreover you can enable/disable and sort out the sections as per your requirement with just simple clicks in additiona with live preview.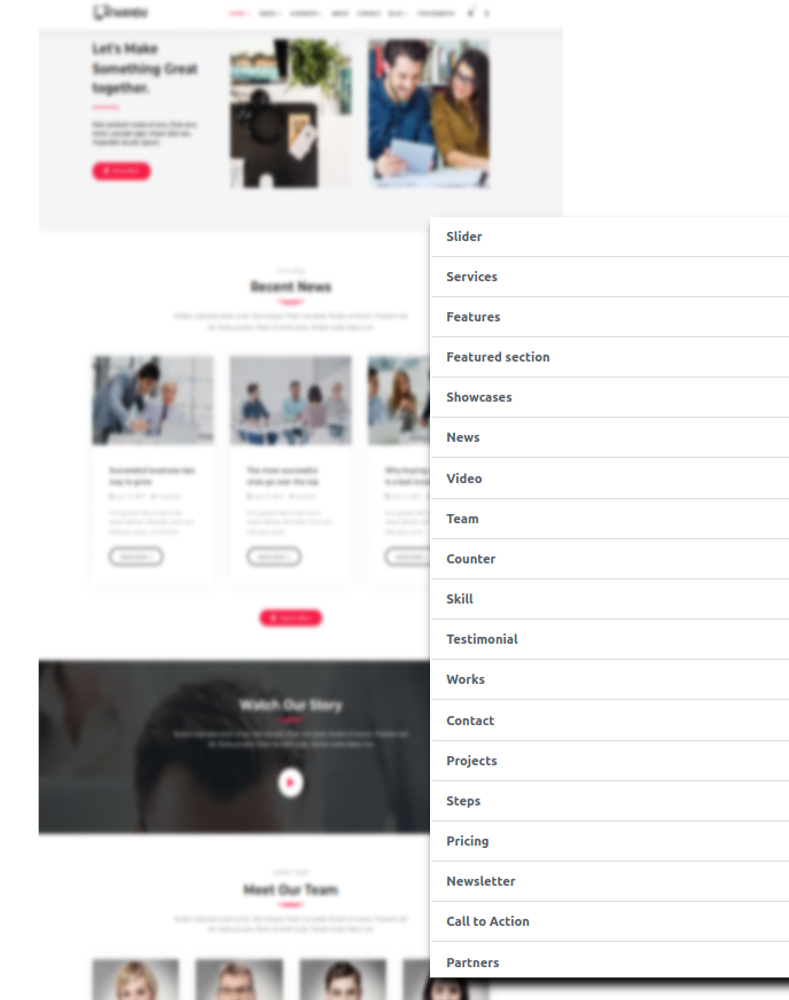 Easy Install and
Swift Setup
Catmandu Pro is as easy as clicking the simple steps buttons. You don't have to waste time on going through tutorials for basic setup. With the activation of theme, steps are unravaled so that you go throught the simple and easy process.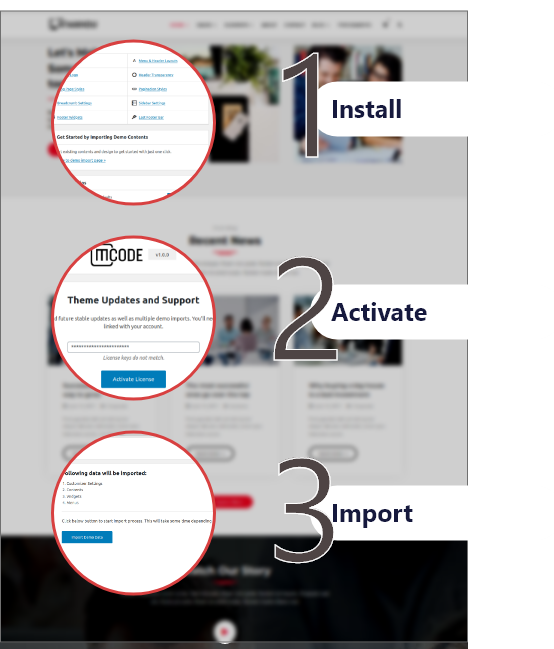 WordPress
Best Practices
Catmandu Pro follows the best practices of WordPress coding standards. It is a theme for normal user and developers by developers. It has been coded with the motto of "Code is poetry".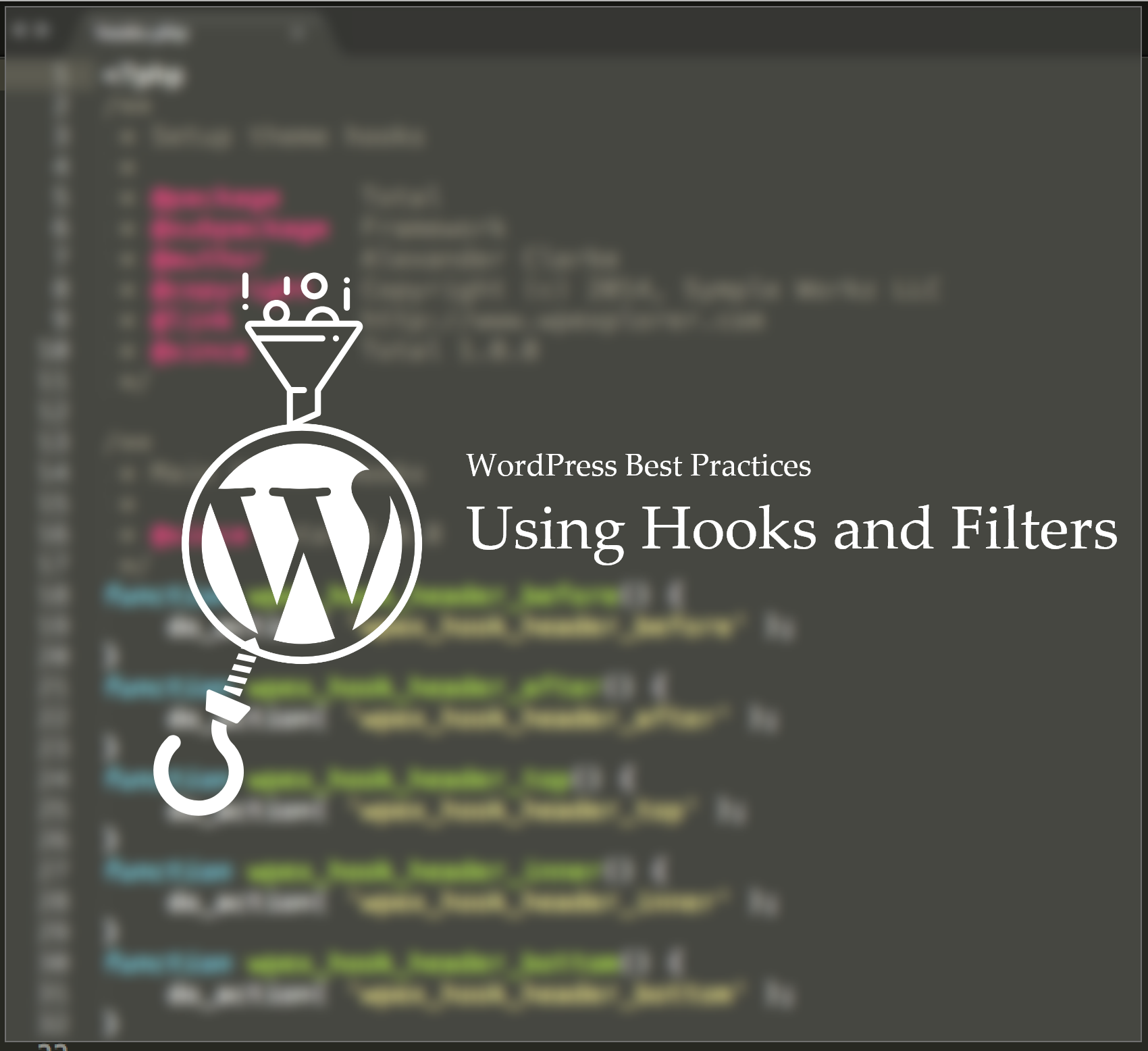 Multiple
niche options
Catmandu Pro provides optimal, most needed and easy theme options. The theme options have been curated with users on mind such that the options don't get overwhelmed or less. Options like changing basic color scheme, color theme, main typography options, sorting, hiding/showing sections and much more are provided.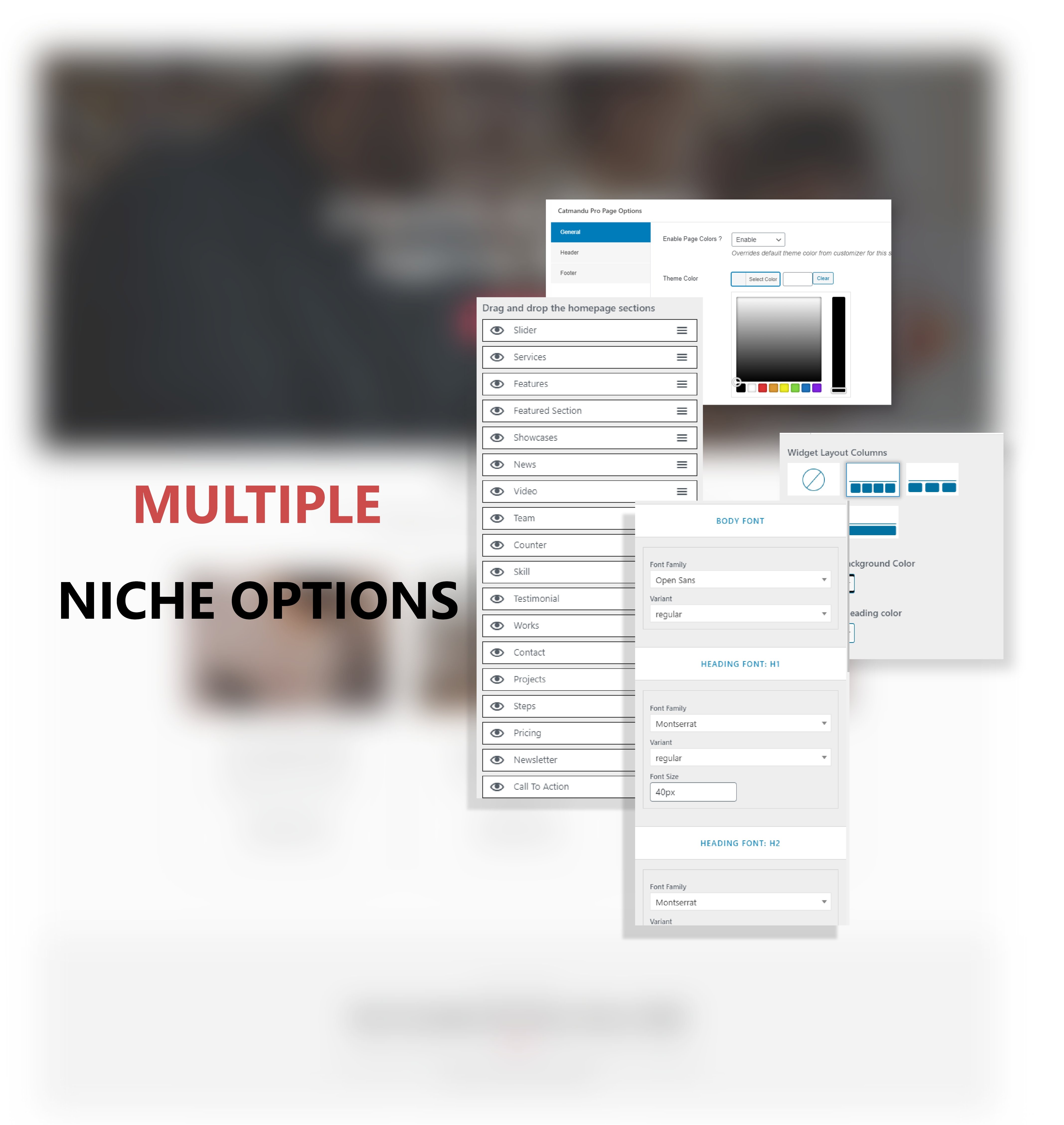 Fully responsive
design
Being fully responsive and mobile friendly are the most in today's web. Catmandu Pro is fully responsive and supports all modern browsers.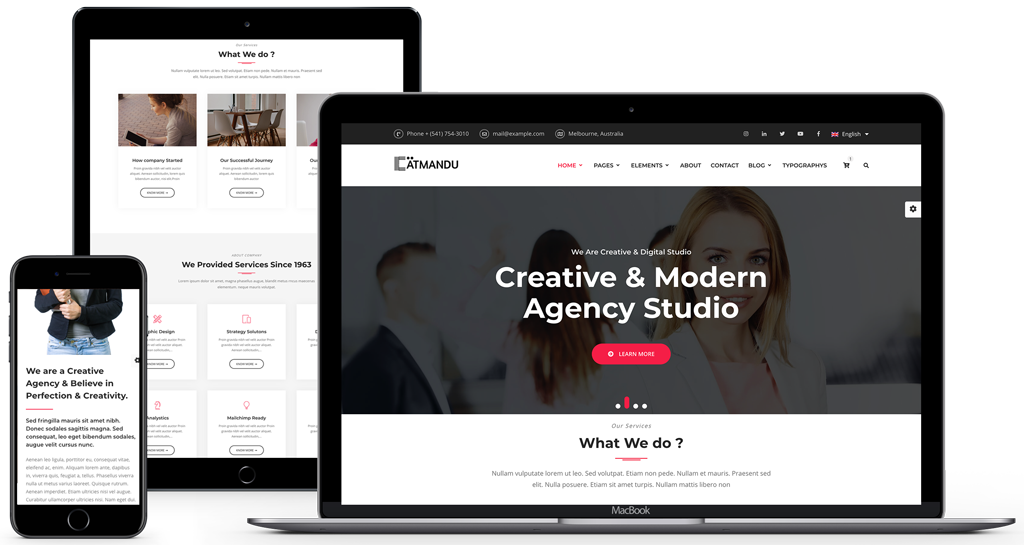 Multiple layout of blog posts
Having a website and blogging about your business is most and so is having an elegant blog page. Catmandu Pro provides multiple blog page options and desing options which you can choose as per your requirement with simple clicks. Skill progress bar, price table
and counter included
Above are some of the quite unique and most needed sections to be on a business website. Catmandu Pro provides all themes sections with full customization theme options.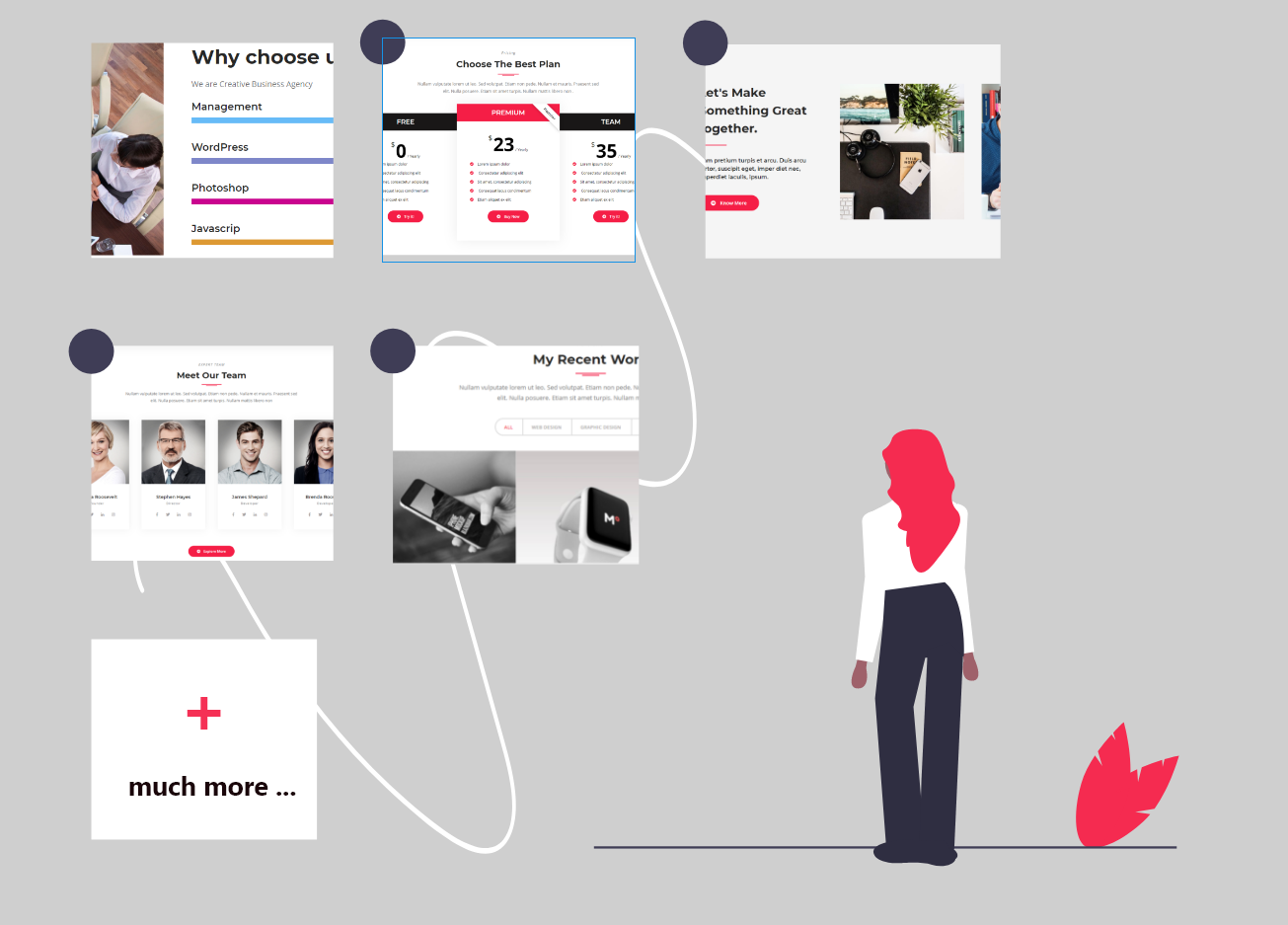 1. Install your scratch WordPress into your server.
2. Goto appearance > themes > upload theme location in wp-admin
3. Select catmandu-pro.zip
4. Install theme
1. Goto wp-admin > Catmandu Pro Page
2. Add your License Keys
3. Goto wp-admin > Catmandu Pro > Import Demo Data page
4. Click on "Import Demo Data" button
5. Wait for few minutes till it completes
6. All Done !
In PRO version, without a license key – You will not be able to import theme demo.
A key entitles you with 1 year of free updates and support  !
= 1.0.2 – May 25, 2020 =
* Fixed: Fix the issue on customizer post select to show all the posts
* Fixed: Responsive design issue
= 1.0.1 – May 21, 2020 =
* Fixed: remove overflow from single author box
* Fixed: remove *moo* default value
* Update: typo issue on theme admin page
* Fixed: Show button text field on CTA section
* Fixed: Prefix pre_set_page_setting_ hook and get_catmandu_pro_sidebar_layout properly
* Update: Update sidr jquery
* Fix: Fix header 1 layout design issue of top header
* Fix: Fix custom.js issue
= 1.0.0 =
* Released: March 5, 2020
Why Choose Us ?
No Coding Skills Required
From installing theme to setting up demo our themes and plugins are easy. No coding skills required to configure or use whatsoever.
Fully Responsive
Our themes and plugins are fully responsive meaning that, in handheld devices or tablets your site can be easily navigated with no issues to the user.
Fast and Secure
With minimal dependencies and spaghetti code our themes and plugins are built with experienced coders and optimized code. It's simple and fast.
Hooks & Filters
Our themes and plugins are built with developers in mind. So, our themes are built with clean and extendable code for any customizations.
SEO Friendly Ready
We try to maximize our themes with SEO friendly codebase so, that you won't have to worry much about how code might effect your content in SEO ranking.
Automatic Updates
Updates keeps your site clean and fresh for any malicious or outdated coding standards, designs. Our regular updates and upto date documentation got you covered !
" Stay Hungry. Stay Foolish. "
- Steve Jobs