Before you purchase Inactive Logout Pro: Free version of the plugin is required in order for this plugin to work. Download free from wordpress.org
Protect your WordPress users' sessions from shoulder surfers and snoopers!
Use the Inactive Logout plugin to automatically terminate idle user sessions, thus protecting the site if the users leave unattended sessions.
Inactive Logout Pro plugin is very easy to configure and use. Once you install and activate the Inactive Logout Pro simply configure the idle timeout from the plugin settings. So now any unattended idle WordPress user sessions will be terminated automatically. You can also display a custom message to idle user sessions, alerting them that the session is about to end.
Some Feature Highlights.
Change idle timeout time.
Count down of 10 seconds before actual logout. You can remove this feature if you dont want it.
Add only Wake Up! message where user will not logout but instead a wakeup message will be shown upon inactive.
Custom Popup Message.
Redirect to a Different Page instead of Popup box. Create a page such as timeout page and add your content there by creating a blank template or style it as you wish according to your theme.
Multiple User Role Configurations for individual timeout and redirects.
Clean UI
Simple to use
Multi browser tab support: Means that logout will not happen even if the user has multiple browser tabs opened and is active in certain browser tab.
Multisite Support: Override all sites with one setting.
Auto browser close logout after 2 minute of inactive session.
Override Multiple Login priority
No backend nagging messages.
Individual user functionality override *Coming Soon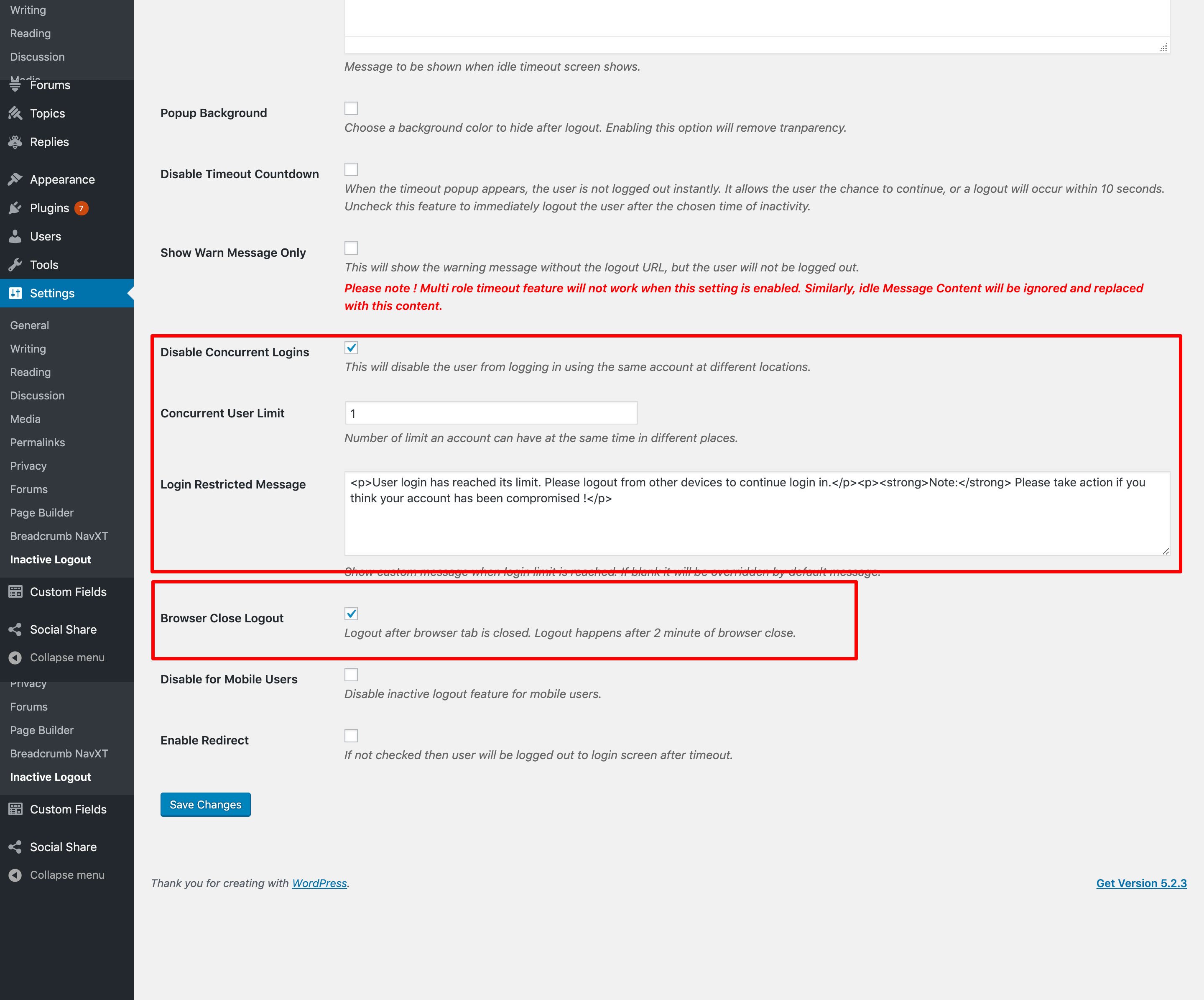 Check out our themes as well if you are interested.
Changelogs:
2019.10.14 – version 1.0.1
Added: Translation ready plugin.
Added: Few translation strings
Bug Fixes: Minor Bug Fixes