Video Conferencing with Zoom Pro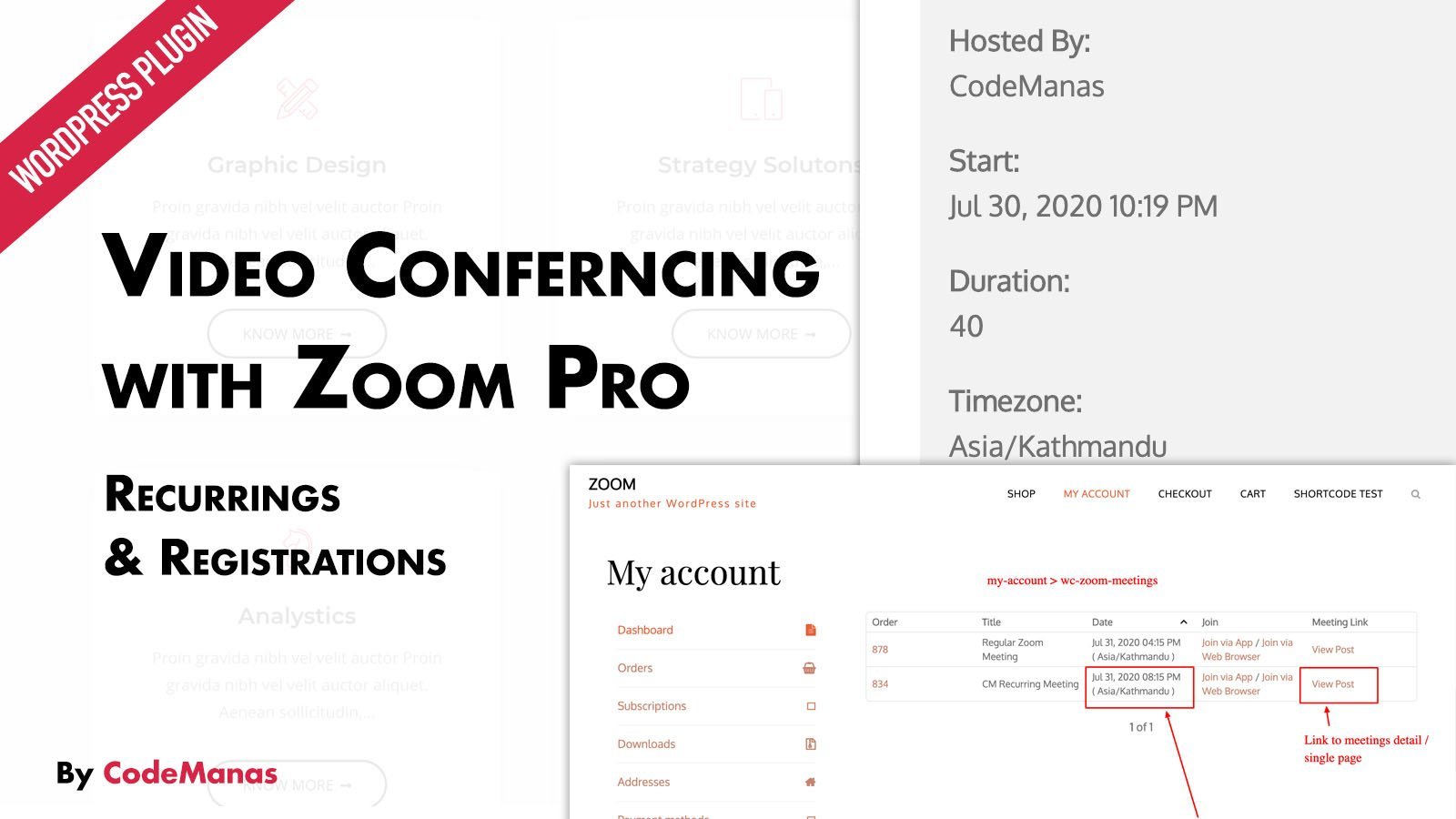 Video Conferencing with Zoom Pro enables you to create recurring meetings & webinars, enable registrations, use PMI directly from your WordPress dashboard and more interesting features to come . Simply go with the flow without needing to go back and forth for creating your meetings or webinars. Supports both Webinars and Meetings.
Feature Highlights
Automate, create your recurring Zoom Meetings and Webinars directly from you WordPress dashboard. Allows you to enable Zoom Registrations on the fly.
Recurring
Meetings
Schedule your Zoom meetings as daily, weekly, or monthly in just a few simple clicks. There are a multiple of ways to set a schedule, the addon enables you to make use of all the possible recurring meeting options available by Zoom

All your meetings
in Calendar
Show your meetings via author or all meetings in calendar view with simple shortcode. This way your users can check out your meetings easily. Short description for the meeting can be viewed by clicking the meeting.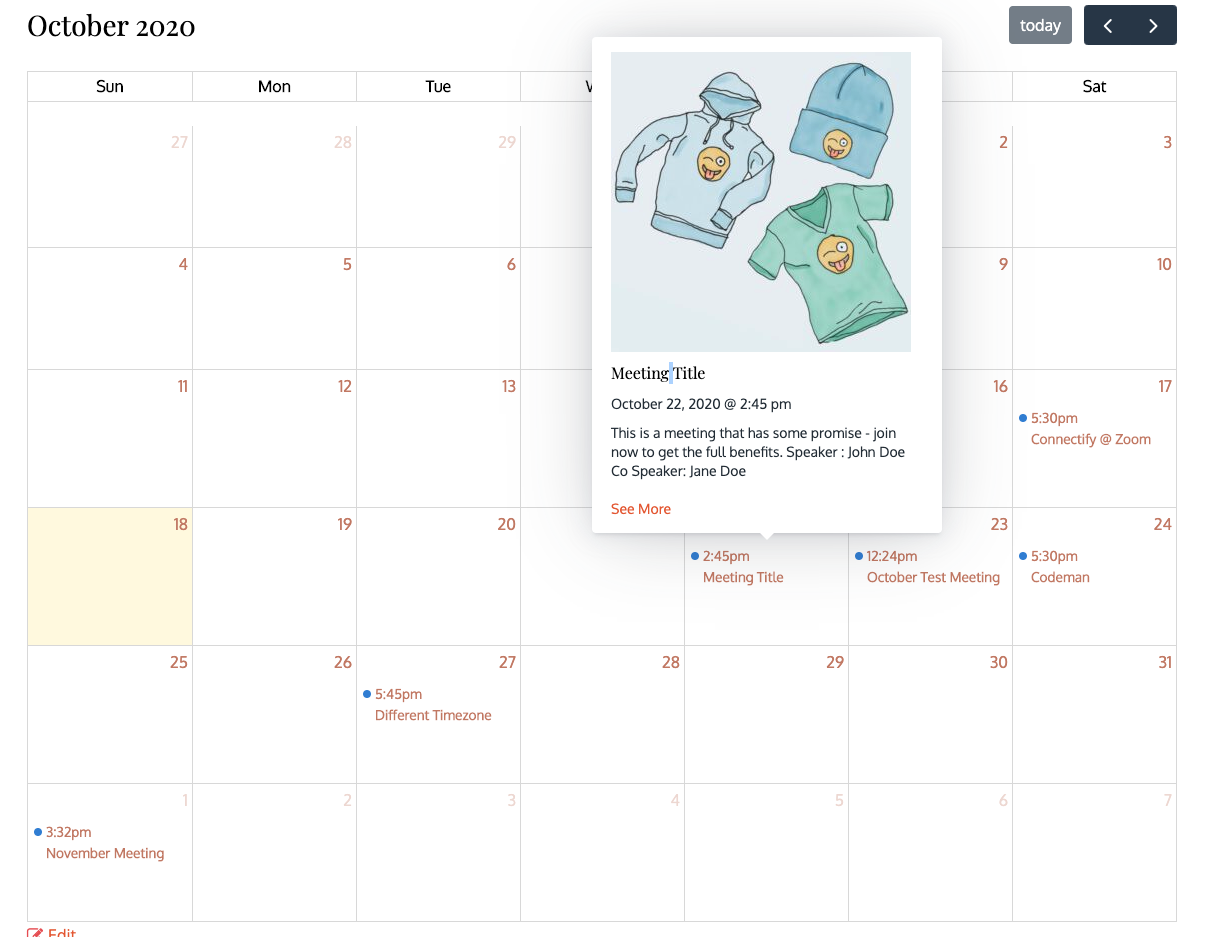 Enable
Zoom Registrations
Enable registrations for your meetings directly from your WordPress dashboard. Registrations can be used with our WooCommerce addon as well. Registration enables you to enable your users to register to a Zoom Webinar or Meeting first before getting a join link.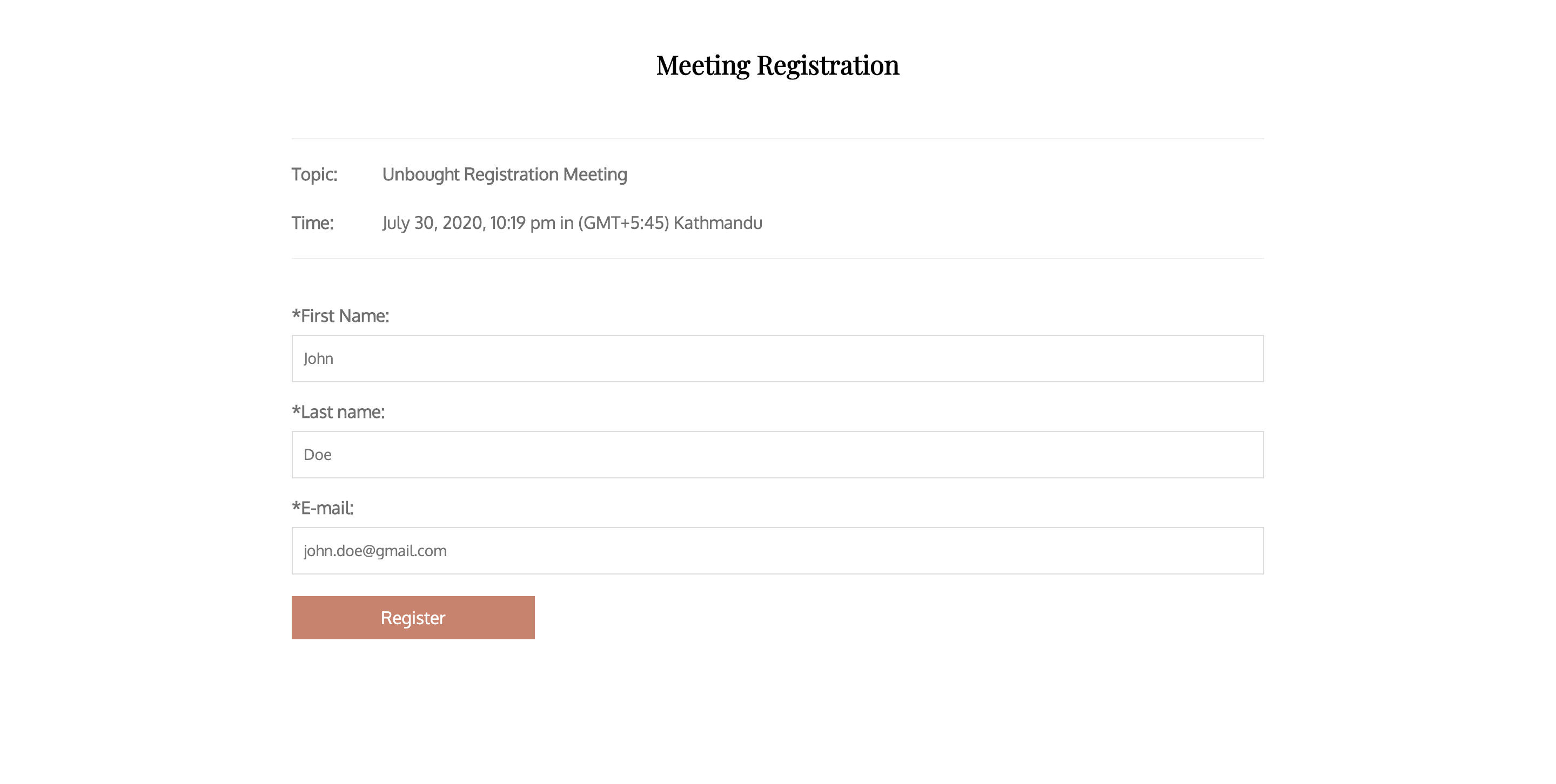 Use
PMI
With this addon you can enable PMI option for your meetings directly from your WordPress dashboard. This will lock this setting, so whether you are starting the instant meeting on the web, with the Zoom Desktop Client, or with the Zoom mobile app, it will use your Personal Meeting ID.

Registrations
To enable Registration on Meetings & Webinars requires a paid Zoom plan https://zoom.us/pricing as of the writing of this document ( August 16th 2020 ) this means at least a Pro user account.
You can use recurring meetings & webinars & registrations with your WooCommerce products.
You will need to purchase our Zoom WooCommerce Addon to use this feature.
This plugin supports Webinar Recurring and Registrations as well.
Yes, ICS or Add to Calendar feature is implemented for the Registration Feature. Registration emails will include the add the calendar invitation.
You can import recurring meetings with PRO version. Free version does not allow recurring meetings but adding PRO version allows you to import recurring meeting as well as import via Meeting ID.
Check developer docs here https://www.codemanas.com/documentation/video-conferencing-with-zoom-pro/
*** Video Conferencing with Zoom Pro Change-logs ***
2020.11.25 – version 1.1.5
* Added: Import recurring meetings from your Zoom to your WordPress site.
2020.11.10 – version 1.1.4
* Feature: Show countdown for join via browser recurring meetings ( required core version 3.6.11 or higher )
2020.11.02 – version 1.1.3
* Fix: Frontend script not enqueued on single Zoom Meeting Page
* Fix: Use vczapi_Dateconverter instead of datetime format
2020.10.29 – version 1.1.1 – 1.1.2
* Added: Customer first name, last name, meeting details and meeting ID parameter to confirmation email
* Fixed: Minor bugs
2020.10.22 – version 1.1.0
* Added: Calendar Shortcode for example: [vczapi_zoom_calendar show_calendar_views="yes"] – See more details about this in the documentation.
* Added: Registration User status change directly from WordPress backend and send cancellation email similary. Users can edit registration cancellation email same way as the confirmation email from the settings page.
* REQUIRES: Free version plugin 3.6.6.
2020.10.15 – version 1.0.2
* Added: Register Email Notification option when creating a meeting. This allows the user to choose default system email or Zoom Email.
* Fixed: Calendar attachment in confirmation email not working all the time due to condition check.
2020.08.15 – version 1.0.1
* Fix: Dependency test correction – do not check for Woo Bookings and Woo Addons unless installed.
2020.08.13 – version 1.0.0
* Initial Release
2020.04.23 – version 1.0.0
* Initial Beta Release
Why Choose Us ?
No Coding Skills Required
From installing theme to setting up demo our themes and plugins are easy. No coding skills required to configure or use whatsoever.
Fully Responsive
Our themes and plugins are fully responsive meaning that, in handheld devices or tablets your site can be easily navigated with no issues to the user.
Fast and Secure
With minimal dependencies and spaghetti code our themes and plugins are built with experienced coders and optimized code. It's simple and fast.
Hooks & Filters
Our themes and plugins are built with developers in mind. So, our themes are built with clean and extendable code for any customizations.
SEO Friendly Ready
We try to maximize our themes with SEO friendly codebase so, that you won't have to worry much about how code might effect your content in SEO ranking.
Automatic Updates
Updates keeps your site clean and fresh for any malicious or outdated coding standards, designs. Our regular updates and upto date documentation got you covered !
" Stay Hungry. Stay Foolish. "
- Steve Jobs