Search With Typesense v1.6.0 is out today. This is a major release. v1.6.0 focuses on the design, UI/UX improvement.

Since this is a major release, there are some substantial changes across different areas of the plugin. We highly recommend you backup your site before upgrading, and make sure you first update in a staging environment
What's new in v1.6.0?
In the new update of Search With Typesense version 1.6.0, the multiple indexed collections are shown in tabbed design for better user experience.
Multi Collections Search Updated
We've changed how the basic instant search front-end instance looks and functions.
Previously you could either search multiple collections without facets/filters or only search one particular index with facets.
The new User Interface(UI) allows users to search through content/collections on your site much easier with multiple facets.
UI/UX Improved
The new user interface provides tab as per the collections indexed and shown. All the collections can have multiple facets now. Moreover the search query will query on all the instances and does not reset on change of tabs. However, facets will reset while tabs are changed since the facets differ on every collections.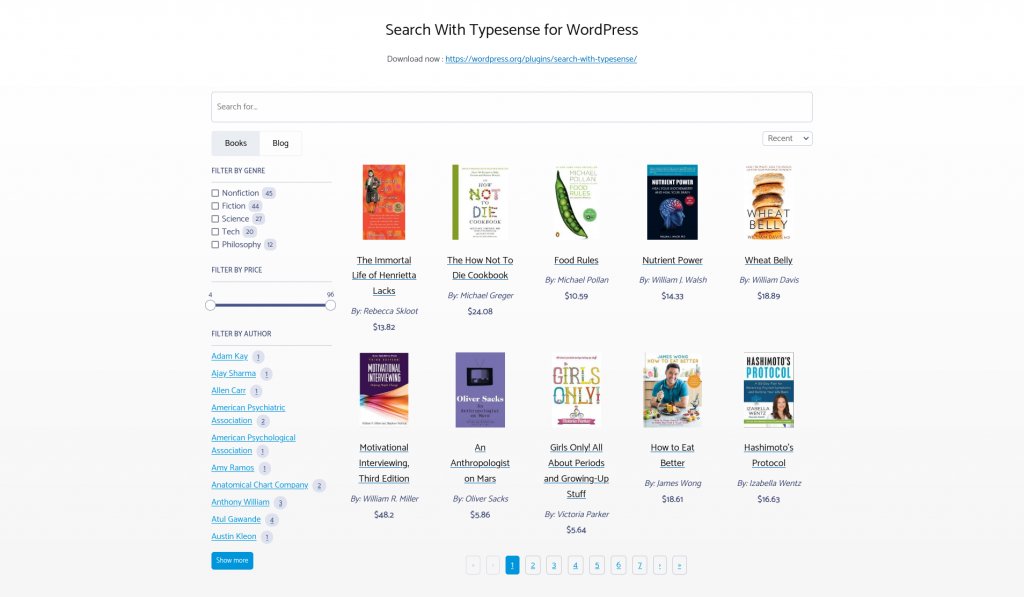 Responsive Design Improved
In this release we've worked on the responsive design of the Instant Search module.
Collections will be shown in drop down and filters will be shown in popup for better user experience. No need to hit apply filter or any button, the filters will work just on click or select.
HTML classes Structure Update
The classes naming has also been changed to the replicate the structure of Algolia's InstantSearch.
The pattern follows like this: cmswt-NameOfBlock-element--modifier to match.
For example: filter-panel is changed cmswt-FilterPanel and so on.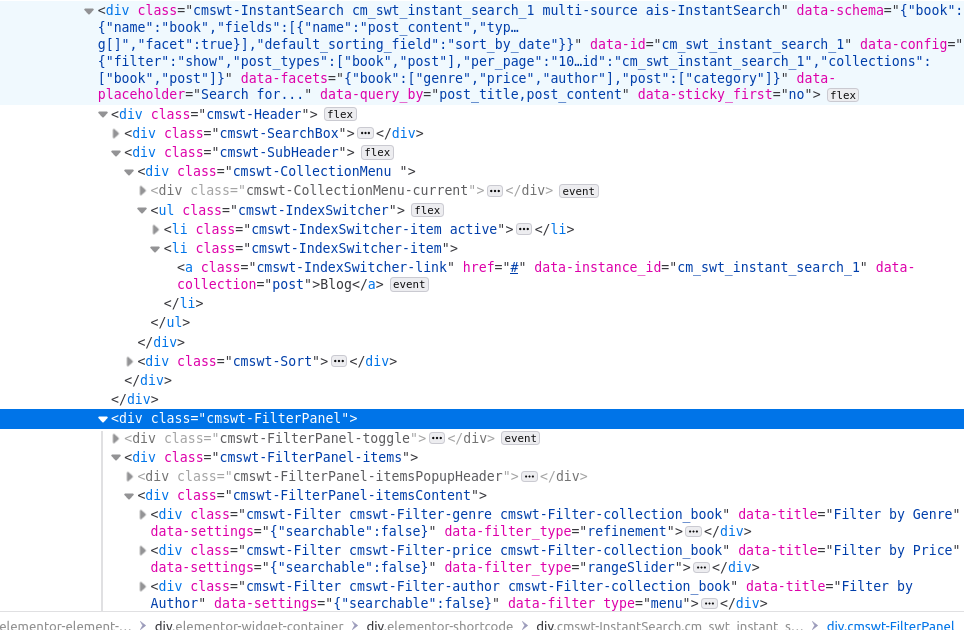 Template structure reformatted
If you haven't customized the templates – this recent update will not effect your site.
This release changes how the templates are structured.
We've changed this so that there is a uniform partials folder, that contain these template parts.
The question you may ask is why ? The answer is – flexibility. Lets say, you want the sort-by option to be shown on the left filter bar – then you could do so easily now.
In previous version (before .6.0), the sort-by filter was specifically defined under /main-panel/sort-by.php – you would have to copy this to /your-theme-folder/search-with-typesense/isntant-search/main-panel/sort-by.php to make minor changes.
So in this latest update, instead of having to remember the exact locations of the template parts we've put them all into one single "partials" folder.
Now lets say if you come back after a few months absence you won't have to spend time remember where everything is.
| | |
| --- | --- |
| Old Template | New Template |
| search-with-typesense/instant-search/main-panel/item.php | search-with-typesense/instant-search/partials/item.php |
| search-with-typesense/instant-search/main-panel/pagination.php | search-with-typesense/instant-search/partials/pagination.php |
| search-with-typesense/instant-search/main-panel/search-title.php | — removed — |
| search-with-typesense/instant-search/main-panel/sort-by.php | search-with-typesense/instant-search/partials/sort-by.php |
| — not available — | search-with-typesense/instant-search/partials/index-switcher.php |
Note: Since this is a major release, there are some substantial changes across different areas of the plugin. We highly recommend you backup your site before upgrading, and make sure you first update in a staging environment